Harbor Pilot Nasir Khan from Pakistan has sent his own checklist to Marine-Pilots.com - we share this list for our readers and look forward to an interesting discussion.
In case Ships Pilot ladder failure


Ships Pilot Ladder broke
Ships Ladder improperly fast at deck
Ships Ladder fast to weak point on deck
Ships handrails & stanchions are in bad conditions
Ships Ladder side ropes are parted
Ships ladder steps slippery
Ships Ladder steps improperly in horizontal position
Ships Ladder chocks are loose
Ships Ladder side ropes defected or slippery
Ships Ladder is twist
Ships Ladder unstable or not firmly rest to the ships side
Ships Ladder swing while pilot climbing, incase any speed craft pass near by Vessel
Insufficient lights at night at Ladder
Any obstructions near by Ladder which makes pilot uncomfortable to climb up wards such as manropes if rigged or retrieval line
Pilot failure Due to


Pilot hands lose their gripes while climbing
Pilot feet slip from ladder steps
Pilot body unstable while climbing
Pilot uncomfortable by any obstructions such as manropes or retrieval line
Pilot unstable by any other unusual sudden moments to the ship or ladder
Pilot caught by medical issues or other's while climbing
Pre- checks should be carried out of Pilot ladder by responsible ships officer before rigging. I am sharing of safety checks of ladder. Links: https://youtu.be/gqebDJ1Z9Xg
Every Ships must strictly follow the IMO, SOLAS & IMPA Regulations. The Ladder Boarding arrangement Poster should be posted in Ships Bridge and as well near by Pilot Access point.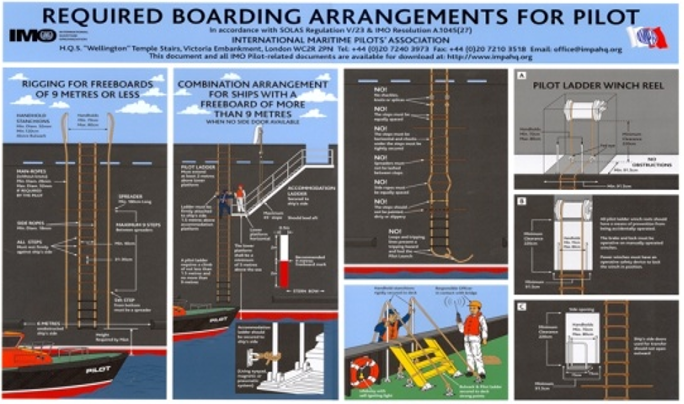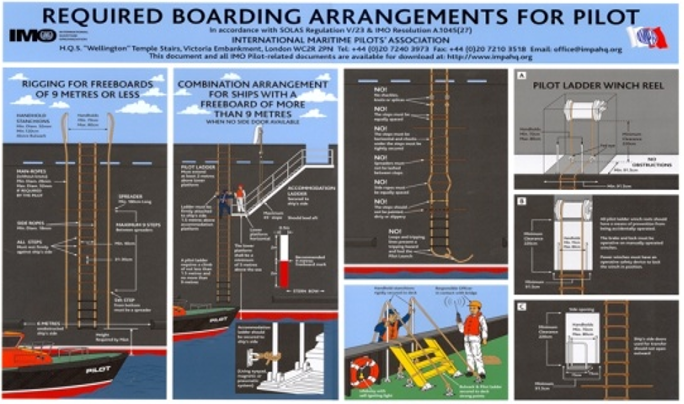 1) When Pilot boarded and vessel passing throw the narrow channel bend , breakwater or approaching to berth, and pilot given orders such as


a) wheel hard over to port or Starboard
b) Engine moments ahead or astern
c) Tugs full push or pull
The same time Pilot fell in the Bridge floor by medical issues or any other's cause.
What's the ships master will do?
Are there any procedure or check list to be discuss between Pilot and Ships Master before commence pilotage?
(a & b) Ships Master could be taking action instantly and control the ships wheel and ships engine but what about (c)?
Where I analyse that at many ports Pilot and Tugs Master often using their local language. Is there any international emergency signal to use by ships Master to stop Tugs from pull or push instantly?
In case Master failure to orders to Tugs by VHF or miss communications, could be accent & pronunciations issue between Ships Master & Tugs Master
2) Could we consider the person (Pilots) body overweight against the 9 meters climbing?
My opinion:


Checklist should be prepared regarding above situations (1-a, b & c) while berthing or un-berthing operation incase pilot fell in the ships bridge floor by any cause.
Every Pilot should onboard the vessel along Assistant Pilot for every berthing /un-berthing.
International signal to be discussed for the ships Master to stop Tugs from pull or push instantly incase above happened.
Overweight persons (Pilots) have to test their body parameters after climbing 9 meters at shore testing system to be arrange. The medical experts take examine to check dangerous signs in body. Age factors to be consider.
Prepared by: Nasir Khan
(Marine Officer / Pilot) - Pakistan
Email:
pilot_nkhan@outlook.com
/ capt_nkhan@hotmail.com
https://www.linkedin.com/in/nasir-khan-9b1b3764
https://www.youtube.com/channel/UCyjJIE3kheqKRlEpXafrdbg