Seattle, Washington-based boatbuilder Snow and Company has handed over a new all-aluminium monohull pilot boat to the San Francisco Bar Pilots of California. Designed by UK naval architecture firm Camarc Design, the aptly named Golden Gate utilises an existing pilot boat layout that has been updated with a refined hull for improved comfort and fuel efficiencies as well as a selective catalytic reduction (SCR) system for further reducing emissions.
The San Francisco Bar Pilots selected a Camarc vessel as it offered benefits such as a sustained cruising speed of 25 knots, the ability to operate in bay waters even in heavy weather, self-righting ability, man overboard (MOB) recovery capability, excellent manoeuvrability, an ergonomic and adequately soundproofed interior layout, and the ability to connect to a shore charging facility to reduce generator emissions when requiring electrical power while pierside.
The new boat has an LOA of 73 feet (22.3 metres), a beam of 20.3 feet (6.2 metres), a maximum draught of just over 3.6 feet (1.1 metres), and space for two crewmembers and up to 12 pilots/passengers. The propulsion system consists of two MAN D2862 LE 438 1,200hp (882kW) US EPA Tier IV-compliant main engines driving Hamilton HTX52 waterjets via Twin Disc MGX 6599 SC gearboxes to deliver a speed of over 30 knots. A Humphree active ride control system optimises trim and reduces motions at speed.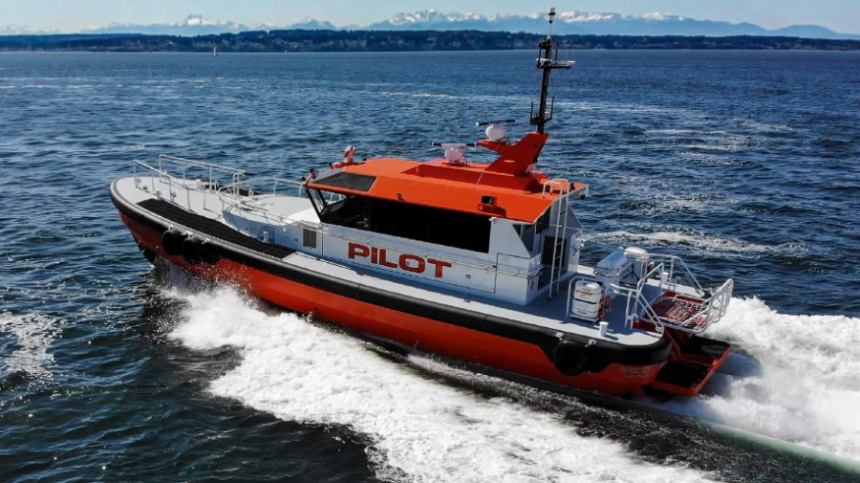 Photo: Snow and Company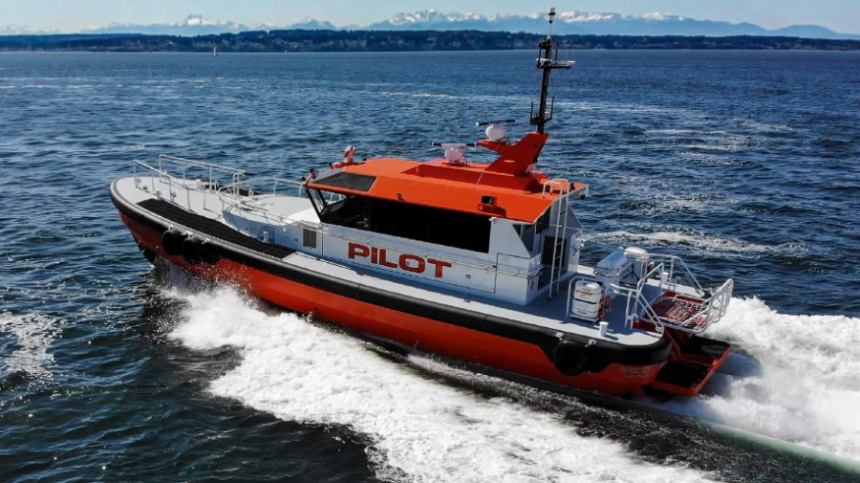 Photo: Snow and Company
The pilothouse is resiliently mounted to the hull structure with vibration isolation mounts for improved comfort even when underway. The crew and pilots have access to a day galley and other accommodation spaces.
The safety equipment includes a MOB recovery basket that can be controlled by only one person via the aft helm station. As the system has no lines, winches, or rigging, it may be safely used even near the boat's waterjets and it ensures a greater chance of victim recovery in extreme conditions compared to hoist and line type systems.
The onboard systems, which also include radars from Furuno, draw power from two Northern Lights M944T3F 38kW generators. Fendering from Fender Innovations is fitted around the hull to provide impact protection.